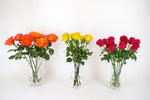 We showcase Cultivars' flowers in a clean simple glass vase. 
When the flowers arrive, choose the tallest vase possible. 
This picture illustrates how 3 different vases change the shape of an arrangement. The vase on the far left has more space for the flowers to open and holds more without looking crowded. The vase in the middle does not hold as many flowers and keeps them more upright and tight.  The vase on the right works in many situations.
As flowers mature, they do not have to stay put in one vase. Cutting the flowers down as they age and re-arranging them is fun and rejuvenating for all.  
Sometimes a stem will lose a flower. They will come alive in a bud vase filled with water.