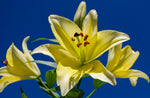 Lilies are long lasting, fragrant beautiful flowers but their orange pollen can stain.  Removing the anthers (the pollen-bearing oval tips inside the flower) early before the lily has fully opened is easy. The anthers will still be rubbery so they will be less likely to drift onto clothing or furniture.
 If the flower has already opened, take a damp paper towel and remove the anthers carefully.  
If pollen does land on an object and is still dry, use sticky tape to lift the pollen off.  Avoid touching the pollen with your hands.
If an item has been stained by pollen, try putting it in direct sunlight to fade.  If these methods do not work, soak the item in cold water for 30 minutes, rinse thoroughly, and dry in sunlight.