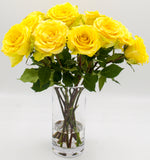 During the quarantine, I gave my neighbor 12 stems of bright yellow cubana roses. There was still snow on the ground, she was not leaving the house and she was alone.  The look on her face seeing the flowers was of pure joy and surprise.  She had not had fresh flowers in her house for years.
She later told me that having fresh flowers in her home was like having a companion.  She watched them all day and night. The roses performed for her in more ways than one. The pandemic has put everything into perspective.  
What is luxury? Health. Home. Family.
A bouquet of Cultivars extraordinary flowers is an attainable luxury that is life affirming.