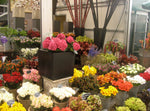 The flower industry is currently experiencing an unprecedented shortage of flowers and the greatest supply and demand imbalance in decades. 
Covid forced farmers to shut down their farms during lockdown. 
Growing regions are experiencing extreme weather, which greatly affects the crops.
During the Pandemic, demand for flowers skyrocketed as more flowers are being sent to loved ones and more flowers are being used in homes to brighten up living spaces.
Transportation costs have risen globally due to a combination of factors, including soaring demand, saturated ports, and too few ships, dockworkers and truckers.
For these reasons, Cultivars has scaled back our offerings.  Our extraordinary Ecuadorian roses are available and shipping very well and we are looking to expand our offerings and diversity.  In the meantime, remember to order early and know that we will do our best to hit your specific delivery date.