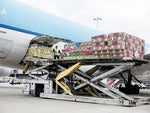 Cultivars ships all orders using FedEx International Priority Direct Distribution Service.
The COVID-19 pandemic has created record-breaking shipment volumes. As more people shop online to avoid crowds in stores, those numbers have grown even more.
The increase in shipping volumes is taxing logistics networks worldwide. Additionally, COVID-19 vaccines and medical supplies are taking air freight capacity.
FedEx is not currently guaranteeing on time delivery. 
Given these obvious challenges to the shipping system, shipping product direct from the source to your door still remains the best way to receive the freshest product.