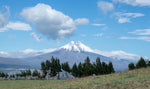 Ecuador grows some of the best roses in the world.  
Being on the equator allows for natural light year round.  Most of Ecuador's rose farms are in the Andes Mountains at 2,000 - 3,000 meters above sea level. 
Roses grown at high altitude have a longer growing cycle,  which is perfect for growing roses with long stems and big heads.  Ecuadorian rose stems can grow to be over 5 feet tall.  The rose heads are up to 2 inches larger in diameter than roses grown in any other countries.  The cold nights promote the development of contrasting hues on the edges and the insides of the petals.  
Our Ecuadorian partner (and friend), Agrogana is a family-owned flower farm.  Their flowers grow over 3000 meters above sea level in the Avenue of the Volcanoes, the Cotopaxi valley. 
Agrogana is a socially and environmentally responsible farm. They take great care of their employees and their employees' children.