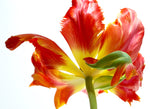 I met my husband in yoga class.  We quickly became friends. He would often drive me home to the city after night classes. I would eat my dinner in his old Saab and we would talk non stop about everything.
He was in the flower business.
One night, he dropped me off at the subway station and asked "do you like flowers?". He opened the trunk and loaded me with a hundred fresh tulips from Holland.  I had never (nor had any of the other subway riders) seen so many fresh flowers.  I put them throughout my apartment in glasses and bowls, as I had no vases.
The apartment came to life. I came to life.  
The process was a beautiful art project that hooked me forever. Every nook and cranny of my home was filled with beauty.
Cultivars was born out of that experience.  
Cultivars provides customers with access to the freshest, most special flowers on the market.  Cultivars flowers are delivered straight from the farm or the Dutch Auction in Aalsmer, Netherlands to the doorstep.  Leaving out the middlemen in the delivery chain minimizes flower damage (no multiple packing, no wait time in warehouses) so that the customer can enjoy the flowers longer.  
Beautify your world with Cultivars.